Reception
13th JULY 2020
Hello Reception,
We hope that you are all staying fit and well. Please find your latest Home Learning activities below - there are some English and Maths activities to keep you busy.
Have fun!
This week's activities (click links below)
Previous Home Learning Tasks
Update 26th March 2020
Garden Games and Idea to play at home:
What's the time Mr Wolf?
Hopscotch
Paint the fence

with water

- patterns, letters, numbers. pictures
Act out 'We're Going on a Bear Hunt' - we love this story
Make a space for fairies and elves
Nature checklist trail
Chalk art on the fence or paving
Wash the toys with warm water and bubbles (I know soap is precious)
Wool spider web weaving on a fence
Potion making with natural fallen materials e.g. twigs, petals, stones leaves etc
Hide and seek
Make an outside den
Draw round your shadows
Update 6th April 2020
Have a pyjama day - a relaxing day in your pyjamas
Play your favourite music and play along
Get lots of socks and match them up into their pairs
Make a foil boat - how many pennies can it hold before it capsizes?
Making challenge - what can you make out of tubes?
Cloud spotting - Go outside. Can you spot any interesting shapes in the clouds?
Paper plane - fold some paper and make a plane. Draw some windows and decorate it.
Hand wash - Wash your bike or scooter with warm soapy water.

Number hunt - Go on a number hunt around the house. Write down all the numbers you find.
Find a rock in your garden - decorate it with a face and give it a name.
Paper boat - use a piece of paper to a make a boat. Will it float? How many passengers (lego people?) can you put inside?
It's not box - turn a cardboard box into something extraordinary.
Movie day - make tickets, prepare snacks and relax under a blanket with your family.
Memory game - make a collection, cover with a cloth. Remove an item, what's missing?
Measuring with a stick - Use a stick to find things that are longer, shorter, taller, the same as.
Spring - collect some nature treasures from your garden and make a picture with them.
Sock puppet - use the tings you have to make a sock puppet.
Take a photo of your favourite things in your house - tell me about them in your home learning book.
Draw the things you can see out of your window. What do you see?
Why not have a late night and look up high? What do you see?
Make a kite. What will you use?
Bubbles - Make some bubbles with some washing up liquid or bubble bath.
Hot/Cold game - something is hidden in the room. Your grown up helps you find it by saying "you're getting hot if you are close. "You're getting cold" if you are not close.
Cooking - follow a simple recipe, use the scales to measure amounts.
Reading den - can you use blankets and cushions to make a comfy space to make a den?
It is hard not seeing our family and friends, why not look at some photos and talk about them.
Shopping - use some things in the house to make a shop.
Float/Sink - when you have a bath tonight, why not find out which things float or sink.
Put a bear in your window for our friends to see. When you go out for a walk, you can go on a bear hunt.
Hide a toy - draw a map for someone. Can they find the treasure?
String phones - make a yoghurt pot phone.
Animal facts - Learn something new about an animal.
Jigsaw puzzles - can you complete a jigsaw?
Update 11th May 2020 (Use your home learning book)
Have a look in your garden for butterflies. Do you know the life cycle of a butterfly? Could you draw the life cycle and label it?
Read or watch 'The Hungry Caterpillar' - draw a picture and write a caption about the story.
Do you know any other life cycles e.g. frog, ladybird, sunflower, bean etc. have a go at drawing them and writing about them.
Practice using money. Can you identify 1p, 2p, 5p, 10p, 20p, 50p, £1 and £2 coins? - draw them in your home learning book and label them.
Use empty bottles - can you fill them with water - make them empty, nearly empty, half full/empty, nearly full and full - take pictures if you can and put them into your book.
Draw 5 bottles and colour them showing the different capacities.
Design a menu and write the prices of each item.
Update 1st June 2020
Go on a minibeast hunt in your garden.How many different minibeasts can you find?
Make a list of the different creatures you have found in your garden.
Draw your favourite minibeast and write some simple sentences to describe it. e.g. It has black spots. It has 6 legs.
attempt o make a minibeast hotel out of different things you can find in your garden. where do different minibeasts like to live?
Use craft materials to make a picture of a minibeast.
Using objects you might find in your garden - make different letters and numbers out of what you find.
Make a tower out of sticks or stones. How tall can you make the tower?
Create a picture of yourself or a friend using natural materials. Who did you create? Make a label/sign for your creation.
Make an obstacle course in your garden - try and be creative and have fun.
Find a quiet spot in your garden and enjoy reading a book.
| Name | |
| --- | --- |
| EYFS School Closure Challenge Cards.pdf | Download |
| Finds One More or One Less Than.pdf | Download |
| Paper Plate Pet Craft Activity.pdf | Download |
| Phonics Phase 2 Home Learning Challenges.pdf | Download |
| Phonics Phase 3 Home Learning Challenges.pdf | Download |
| Solving Problems - Doubling.pdf | Download |
| Solving Problems - Halving.pdf | Download |
| Solving Problems - Sharing.pdf | Download |
| Tablespoon Biscuit Recipe.pdf | Download |
| Using Quantities and Objects They Add Two Single-Digit Numbers.pdf | Download |
| Name | |
| --- | --- |
| T-T-24243-EYFS-Pirates-Home-Learning-Challenge-Sheet-Reception-FS2.pdf | Download |
Showing 1-1 of 1
Reception
Welcome to the Spring Term! Miss Hickman and I are very much looking forward to continuing the great work the children have been dong and sharing this with you and your child over the coming months. We have an exciting and busy term ahead of us, and if you have any questions please do not hesitate to speak to us.
Literacy:
In our Literacy lessons we will be concentrating on our applying our phonic knowledge that has been taught in our Read Write Inc sessions. We will learn how to say a sentence and listen to the sounds in words. The children will learn how to hold a sentence in their heads and apply their knowledge of sounds to write simple words and sentences. The children will have the opportunity to write in many different forms and genres, for example,lists, labeling, stories, facts etc.
Mathematics:
This term we will continue using White Rose Maths resources to help us recognise numbers 1-10 and their values. We will also learn how to add and subtract groups of objects.
The children will learn to recognise 2D and 3D shapes and talk about their properties.
We will investigate pattern and try to continue repeating patterns, as well as discussing positional language and using the correct vocabulary.
Understanding of the World:
This term we will be learning about our families and the environment in which we all live.
The children will discuss what a family is and who is in their family, as well as discovering facts about the local area in which they live.
We will also look at our lives now and the lives of people in the past - this links with our topic about castles.
We will look at different celebrations and the traditions linked to these, for example, Chinese New Year, Mothers Day and Easter
We will also be thinking about different materials in the environment and sorting and experimenting with these. The children will learn about the different seasons with the focus being on Spring this half term.
Expressive Arts and Design:
The children will have the opportunity to use a variety of materials in order to be creative and represent their own ideas using paint, collage and junk modelling.
They will also experiment with instruments and the different sounds they make.
The children will take part in weekly music sessions, singing and experimenting with sounds.
Ways you can help your child:
The children will continue to bring home their 'Phoneme book' each day with a new sound that will be added. Please share this book with your child in order to support the learning of these sounds.
Encourage your child to form letters correctly and 'have a go' at writing independently, simple words and captions.
The children will continue to bring a reading book and reading record home once a week. Please read with your child at home and record how you feel they have read.
We will introduce phonics and maths club sessions, as well as a parent drop-in session to discuss reading and phonics support at home.. A letter will be sent home with more information.
Reception have their P.E lessons on a Friday. Please ensure your child has their full P.E kit on this day (white t-shirt, black shorts, black pumps).
Thank you
Miss Wall (Reception Class Teacher)
Curriculum Overview for the Autumn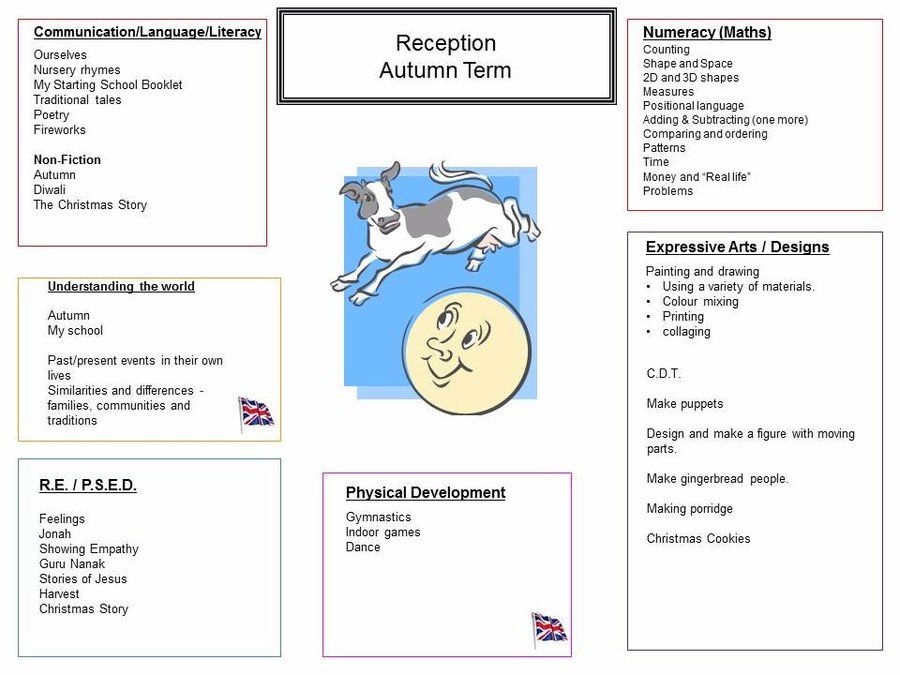 Curriculum Overview for Spring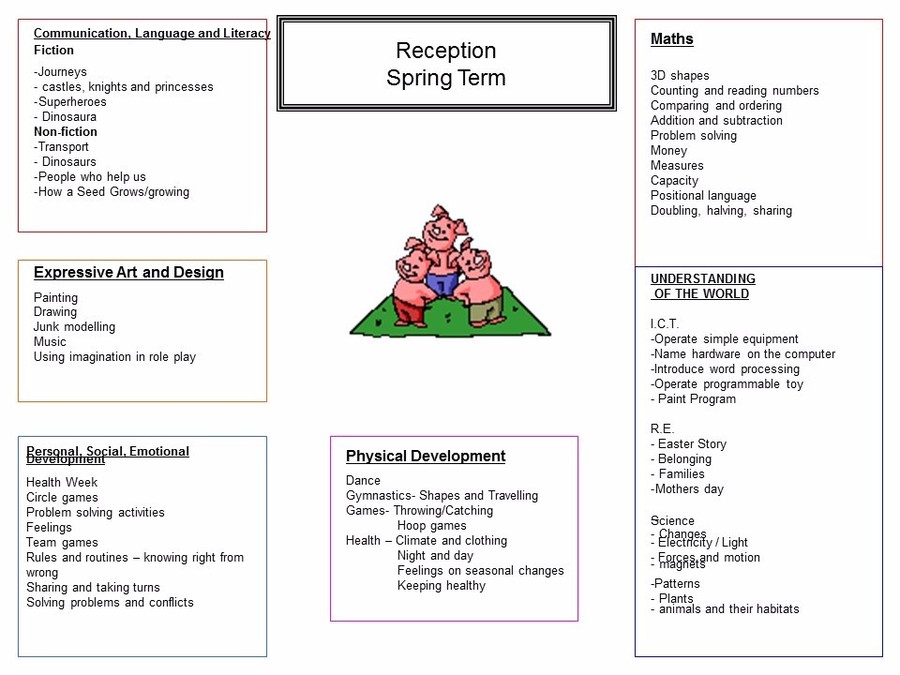 Curriculum Overview for Summer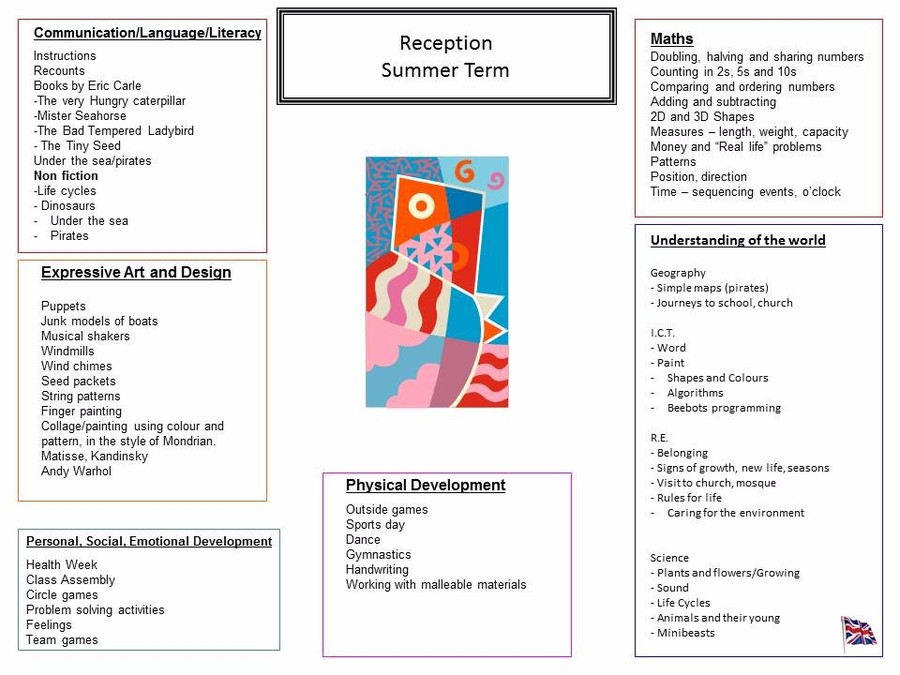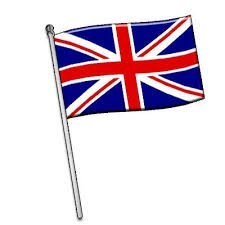 The curriculum promotes British Values click here for further information.